Popular Styles for Men's Wedding Bands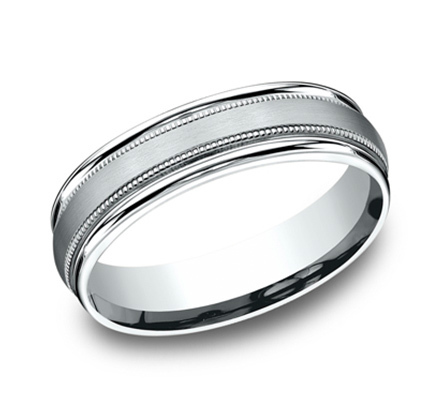 For many couples preparing to walk down the aisle, the spotlight falls on the beautiful bride-to-be. Although there are many aspects of the big day that are unofficially reserved for your bride, there's no reason that as the groom, you can't enjoy your own special part of the process too! Your wedding band will serve as a symbol of your love and commitment for years to come, something that will become as much a part of you like your new role as a husband.
Because your wedding band is something that you'll wear every day, it's best to choose something that represents both your personality and style.
Custom Designed Wedding Bands
If you have a vision of the ring you'd like but haven't found anything that matches your expectations, you may want to consider a custom men's wedding band. Our custom jeweler can help bring your ideas to life, working with anything from family heirloom gems, random inspiration images, or even just the "feel" you're looking for in a ring
Popular Styles for Men's Wedding Bands
Here are a few of the most popular men's wedding band styles we've seen in recent years:
Classic Band: The classic band is one that will never go out of style, perfectly understated and ideal for the simplistic groom.
Patterned Band: For the groom that wants something relatively subtle but with a special touch, a patterned band is a perfect balance of simplicity and style.
Diamond-Set Band: A significant trend in men's wedding bands is the addition of eye-catching diamonds, in a variety of sizes and colors.
Rounded-Edge Band: The simple detail of a rounded-edge has a significant impact on the overall look of a band, lending an element of elegance and sophistication to the ring.
Building a Jewelry Legacy Rooted in Love
At Dominion Jewelers, one of our core goals has always been to serve as a trusted partner in the jewelry shopping process, especially for clients choosing their wedding jewelry. We understand that your wedding band will be the most important piece of jewelry you'll ever wear. We've been honored to help Virginia couples choose their wedding rings for more than 30 years. We have witnessed the shifting trends in wedding jewelry for decades and today's trends lean towards styles that are highly personal, unique and timeless.
Find Your Perfect Wedding Band
At Dominion Jewelers, we believe that there's a wedding band out there for every groom-to-be. Contact us today and let us help you find or create the perfect wedding band to fit your personality, style, and lifestyle.