Necklaces Inspired by Nature and Your Dreams
From brilliant diamonds to a bevy of colorful sparkling stones, the perfect, one-of-a-kind necklace awaits you at Dominion Jewelers, where our craftsmen design each beautiful piece by hand.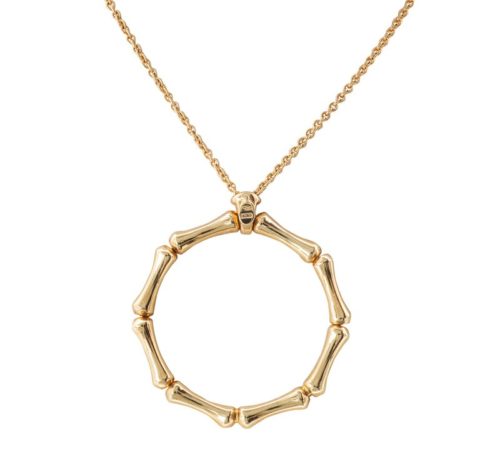 Top Necklaces & Pendants in Falls Church
The Distinguished History of the Necklace
The history of the necklace dates back tens of thousands of years. Fossil evidence indicates that early adornments were made from shells, stones, coral, and even bones. Necklaces were symbols of wealth and status and often used for special occasions or ceremonies.
The evolution of the necklace follows the development of garment necklines over time. As the collars and necklines of clothing for both men and women changed, jewelry designers came up with new ways to accentuate the wearer's neck and shoulders.
Modern Necklaces
Modern necklaces can be a sign of status, but more often they are expressions of style and individuality. Whether you are dressing up or going casual, there's a necklace for every occasion.
Varying lengths, metals, stones, and colors give you an endless array of possibilities. Below are the most popular necklaces to collect for your wardrobe:
The Lariat: A lariat necklace is also called a "rope necklace" or a "Y-necklace." It is one of the longer lengths (approximately 34-inches) since it is made to wear as low as the navel. Either chains or beads are wound together to form a long rope that may be tied at the ends or pulled through a device called a "finding." The Double South Sea Pearl Lariat is one example.
The Pendant: A pendant necklace is a delicately styled piece that is ideal for everyday wear. The term "pendant" refers to an item suspended from a chain that serves as the focal point of the necklace. The pendant can be almost anything—a simple diamond, a birthstone, or a stylized metal design. The chain of a pendant necklace can be any length and is usually made with white or yellow gold. However, platinum and rose gold make lovely choices too.
The Collar or Choker. A collar or choker necklace is made to sit higher up and closer to the collarbone than other designs. A choker can be elaborate and elegant with colorful precious stones or it can be very simple with just a metal band. Depending on the design, a collar necklace may be appropriate for a day at the office with a crisp business suit or it can be worn to adorn formal eveningwear.
Colored Stones in a Necklace
While diamonds will likely continue to be favorite, colored stones of all kinds are popular choices for pendants and necklaces as well. Elaborate pendant settings with colored stones can look beautiful with formal attire.
A simple, understated, but eye-catching stone can be worn everyday, with any outfit. Designing a birthstone necklace is a way to make custom pendants even more special for someone you love.
Precious Metals in a Necklace
The chain and the settings of your necklace are usually made from precious metals because they are the safest, most durable, and aesthetically pleasing. Here are some options to consider when you're thinking about designing a custom made necklace:
Platinum is one of the most durable metals used in jewelry. It is easy to take care of (just soap, warm water, and a soft-bristled brush). While it is beautiful and highly sought-after, not every jeweler knows how to work with this metal correctly and not all platinum is created equal. Look for a mark that says "950 PLAT" or "PLAT" for confirmation that you're receiving a quality product.
Yellow gold is the most common metal used in necklaces. It does not rust or corrode and is one of the more pliable metals to mold and shape. Because of that, it is standard industry practice to mix with copper and silver. The purity of a piece is defined by karat number: it is annotated with a number between 1 and 24 and the letter "K (e.g., "14K" or "22K"). Karats are expressed in 24ths, so a 100% pure piece of gold is 24K.
White gold is a derivative of yellow gold. White gold gets its lighter color from an alloy called rhodium. At the end of the polishing process, all white gold jewelry is plated with rhodium to give a pristine white shine. Over time, the rhodium wears off and need to be maintained with yearly or bi-yearly polishing and plating to keep it looking bright. How quickly this happens varies based on how often you wear the piece and your body chemistry.
Rose gold is similar to white gold in that its color is the result of mixing an alloy (copper, in this case) with the base yellow gold. This results in jewelry that is a soft shade of pink. Because its rosy glow is closer to the natural warm color of gold, as the plating wears, the change in color isn't as noticeable with rose gold as it is with white, so it doesn't require as much maintenance as white gold.
The Process of Designing Your Necklace
Your jewelry should be an expression of who you are. Don't settle for something off the shelf. At Dominion Jewelers, we work with you to create an heirloom-quality necklace unique to you. Dominion Jewelers combines advanced mechanical technology with artisan craftsmanship to produce one-of-a-kind pieces of jewelry.
You will begin by working with one of our experienced design professionals to bring your vision to life. You get to choose metals, stones, and a style that suits you best. After the first visit, the artist will have a preliminary sketch ready for you.
The next step is to transfer the design you approve into the computer-generated image. The designer can show you details about the design from the size and angle of the stones to the minute details in the metal setting. With the guidance of your designer, together you can make adjustments through a CAD (computer-assisted design) program.
Though the computer work is very precise, at Dominion Jewelers, we want to be sure you are delighted with the finished product. Therefore, once you approve the computer design, we make a wax model so you can approximate how the necklace will look when finished. Next, the piece moves into the manufacturing stage.
This part takes around two to three weeks. Finally, the stones and final details are finished by the hand of one of our experienced goldsmiths, and after a thorough polish and cleaning, the necklace is ready to present to you for a final inspection.
The Cost of Designing Your Necklace
Many people think commissioning a piece of jewelry is reserved for the wealthy. However, at Dominion Jewelers, you are buying custom necklaces directly from the artists who made them.
As a result, the piece will cost about half of the regular retail price. In effect, you're getting one-of-a-kind art for while others pay for depersonalized, mass-produced jewelry.
You are in control of the price based on the components you choose and how intricate the design is. Primary factors that determine cost are the kind of stones you want, the types of metals used in the construction, and how much time it takes to create the necklace. If you would like to pay for your piece over time, we offer six months of interest-free financing through Wells Fargo.
At the end of the process, you take home a work of art made in your vision and by the hands of a master craftsman. A piece of this quality makes a beautiful gift to yourself or someone close to your heart.
Contact Dominion Jewelers today to set up an appointment and start the process of bringing your jewelry dreams to reality.
Available Stones & Styles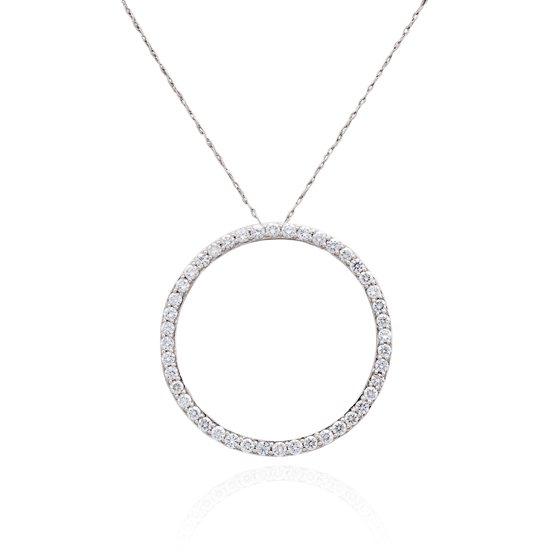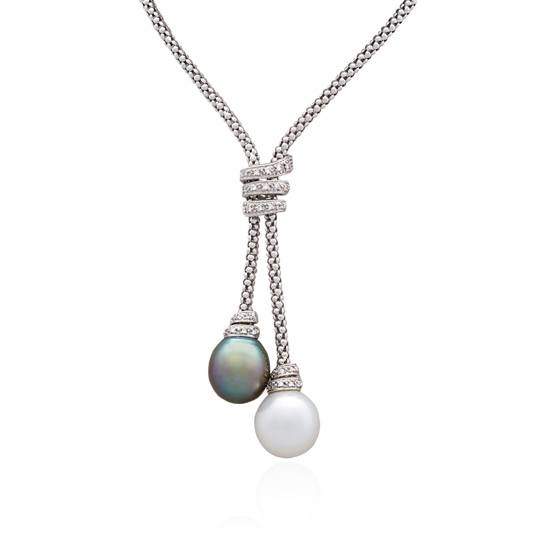 Double South Sea Pearl Lariat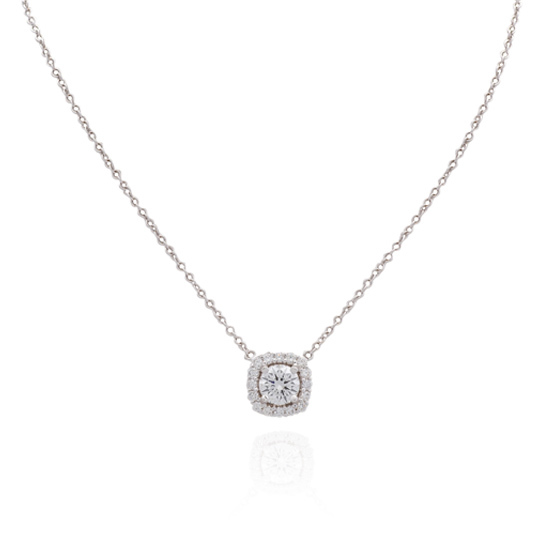 Floating Diamond Halo Pendant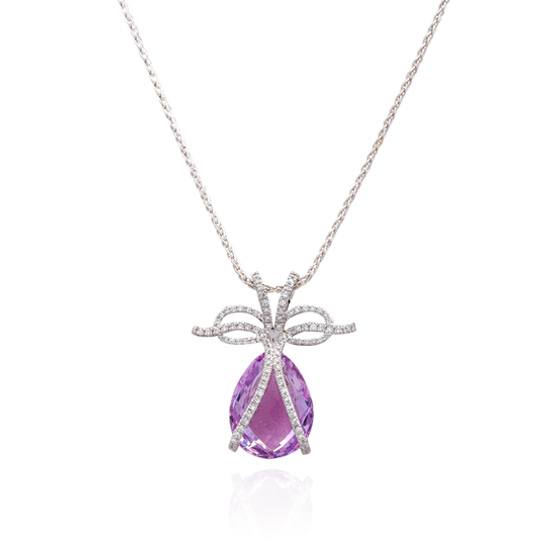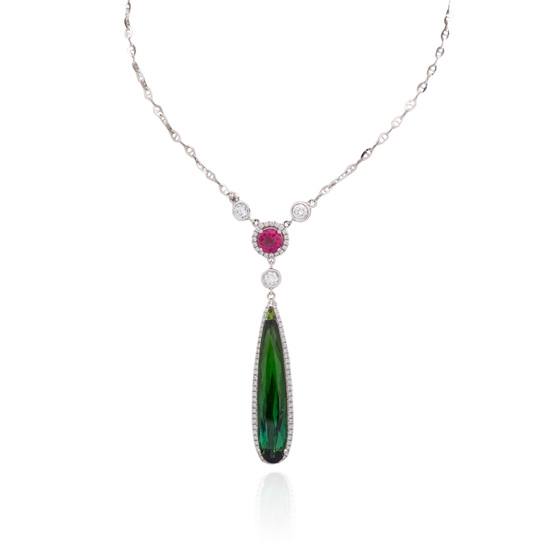 Multicolor Tourmaline Lariat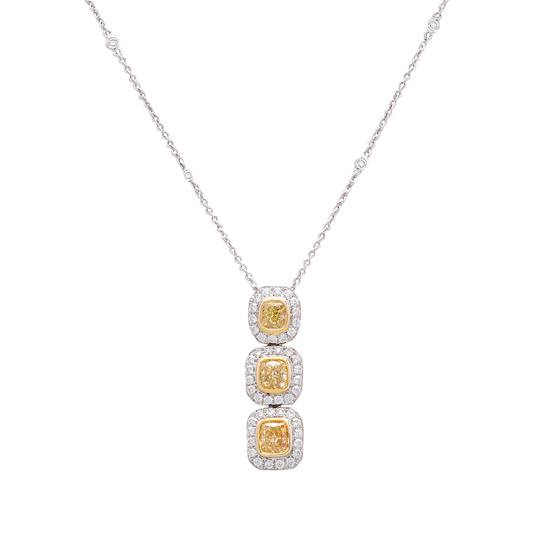 Fancy Yellow Linear Diamond Pendant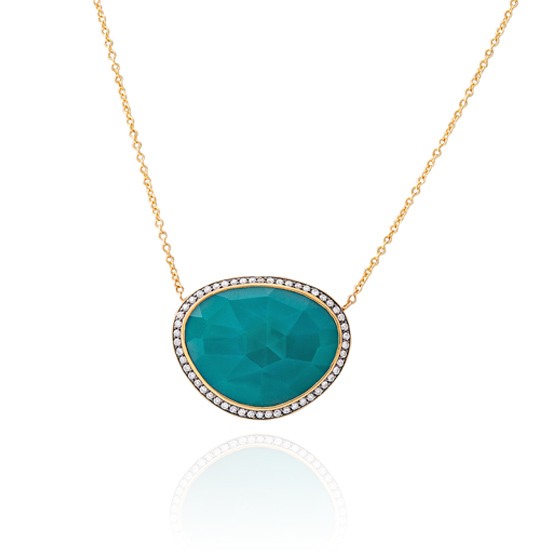 Faceted Green Agate Slice Pendant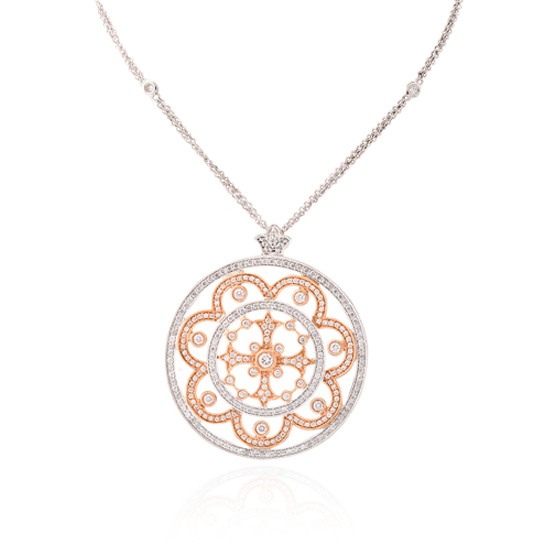 Two-Tone Diamond Medallion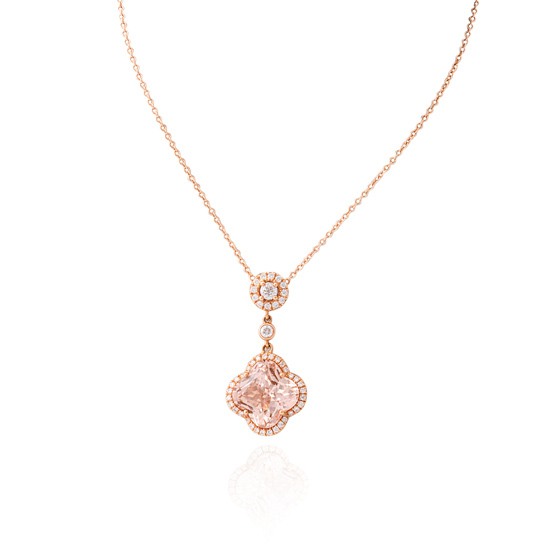 Quatrefoil Morganite Pendant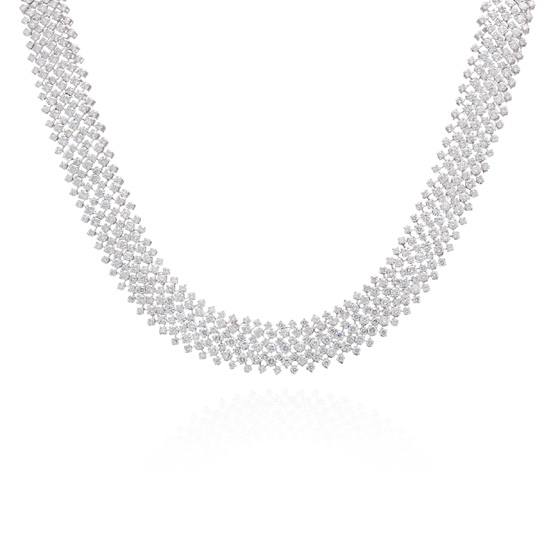 Necklaces & Pendants at Dominion Jewelers
Necklaces date back to ancient times. Opulent neck adornments were one of the earliest symbols of luxury and wealth, and were used for celebrations and ceremonies. Today, a variety of necklace styles can be found in nearly every woman's jewelry collection, ranging from the everyday casual pendant or necklace to something glamorous for life's most special occasions. Because there are so many options, and so much versatility, there is an endless number of ways to wear and enjoy necklaces.
Whether you're searching for a trendy new piece to update your personal collection or a unique gift for someone special, Dominion Jewelers has the perfect necklace. Our impressive showroom in Falls Church, Virginia offers an extensive selection of diamond, gemstone, and gold jewelry for virtually every woman.
Necklaces: A Foundation in Your Jewelry Collection
Perhaps your style mantra is 'less is more', and you typically wear the same one or two understated pieces. Or, maybe you enjoy experimenting with the latest look in jewelry fashion. Whatever your taste may be, the right necklace can reflect your personality and sense of style.
A large, richly hued gemstone necklace is perfect if you want to make a bold fashion statement. Or consider a style with multiple gemstones 'stationed' around a long rope of precious gold. This style will give you the utmost in versatility—wear it full-length for your more casual looks or wrap it to create a double strand—just the right accent for a tailored suit or a flirty dress.
A delicate pendant is the ideal choice for an everyday necklace, as it will complement everything in your wardrobe. The classic simplicity of a diamond pendant, whether in a traditional prong setting or a modern bezel mounting, will always be in style. Or, for a bit more dazzle, go for a diamond halo pendant, where tiny diamonds gracefully surround a larger center stone.
The versatility of a pendant is endless, as you can create a truly personal piece by selecting a gemstone and choosing the precious metal to best accent it. Dominion Jewelers has a wide selection of quality gemstones in every color, size and shape imaginable. Opt for yellow gold for a traditional look, white gold or platinum for a modern twist, or the soft shimmer of rose gold, which beautifully combines warm and cool and looks gorgeous on all skin tones.
Collar and choker necklaces are excellent choices for special occasions, as they fit closely around the neck and do not compete with, but subtly accent, a woman's formal attire. You can choose a simply elegant circlet of brilliant gold or a wider band intricately studded with diamonds or gemstones.
No matter if your style is traditional, contemporary, or vintage-inspired, Dominion Jewelers offers an exciting selection for you to discover.
Custom Design Services
If you can't find that just-right necklace, take advantage of what truly distinguishes us from traditional jewelry stores. We invite you to contact one of our experienced jewelry professionals about our custom design services, where you can learn more about crafting an original custom necklace of your own design. Together, with our expert team, you can create a unique, heirloom-quality piece that's sure to become a cherished favorite.
Dominion Jewelers: Your Luxury Jeweler in Northern Virginia
At Dominion Jewelers, we witness every day the power of jewelry. A treasured necklace can tell a story, bring to mind precious memories, mark a life milestone, or simply represent the love bestowed by a special someone. We understand that these are the pieces that are destined to become family heirlooms. And that is why our craftsmen use only the finest precious metals and exceptional gemstones, creating a collection of breathtaking necklaces that will retain their beauty for generations.
Come visit our beautiful showroom to browse the incomparable selection of fine jewelry at Dominion Jewelers. You will see for yourself what sets us apart from all the others.
Contact Dominion Jewelers Today!
Our Other Products:
Custom jewelry beautifully created just for you.
"The favorite part of my pendant is knowing that Rob created the design himself. It is truly special because it is unique to me and represents endless love."
Unique jewelry carefully crafted to enhance your natural beauty.