Uniquely Creating Your Signature Accessory
A unique, beautiful bracelet has the power to become your permanent to-go accessory, transforming anything you wear into something special. Our highly experienced jewelers use cutting edge technology and precious materials to ensure your arm piece is like no other.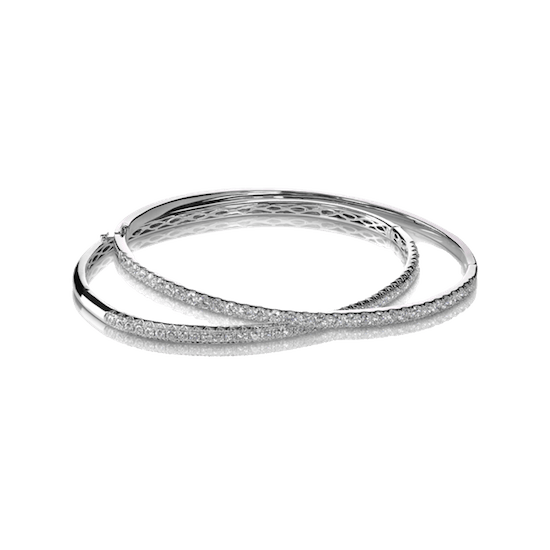 Best Custom Bracelet Designs in Falls Church
A tasteful bracelet can elevate any ordinary outfit into a magazine-worthy ensemble. However, with so many styles and varieties, it can be challenging to find a bracelet that delivers just the right touch.
At Dominion Jewelers, we have a wide selection of artisan-quality bracelets that feature a rainbow of gemstones—there's a bracelet for every look in our showroom at Dominion Jewelers.
Custom-designed bracelets are also a great choice if you want a "couture" piece—one tailored to your exact style and taste. Learn the ins and outs of designing bracelets and check our gallery to begin dreaming up your ideal cuff, bangle, or bracelet.
Bracelet Styles
Historically, bracelets have been regarded as artful representations of cultural diversity. These gorgeous pieces of jewelry have been around for at least 9,500 years and show off the rich, global history of the individuals who have worn them. Some of the most popular styles include:
Bangles. They give the wearer an exotic flair and exude a warm, playful, boho-chic vibe when stacked together. Stacked gold bangles look elegant and stately.
Cuffs. Cuffs can be simple solid metal designs or set with semi-precious stones. The distinguishing feature of a cuff is its solid composition and a gap in the back for putting on and taking off. They are a great accessory and when stacked, their delicate jingle adds some fun to an outfit for a night out on the town.
Tennis bracelets. The stately tennis bracelet is the epitome of classic elegance. They are built using sturdy chain mounted, prong-set diamonds and gemstones. Do diamonds all the way; diamonds and sapphires; or semi-precious stones in all the colors of the rainbow. Dress them up; dress them down—tennis bracelets will always turn heads.
Link bracelets. Among the more highly personalized bracelets, link bracelets are most often fitted with personalized charms. One of the more unique characteristics of link bracelets is their symbolic longevity. Over time, new charms can be added to commemorate important life events, chronicle life-long travels, and symbolize family members. They become a wearable collage of an individual's life and make for great gifts that can be added to as the years go by.
Mesh bracelets. Mesh bracelets are made up of a phalanx of many smaller links and move fluidly on your wrist. These trendy accessories have an austere, sleek, and modern look.
Decide which style speaks to your personality and style, and let the design process begin!
Materials and Gems
When it comes to metals and gems, the only constraints are your color preferences and budget. Choose from silver, gold, rose gold, or platinum depending on the metal color and strength you prefer.
Choose anything from diamonds and sapphires to lapis lazuli and opals. Gemstones come in all colors and price points, so set your imagination free and create a bracelet you'll cherish forever.
How to Choose a Bracelet
Bracelet selection comes down to a few criteria. When shopping for a new piece, ask yourself the following questions:
On which occasions will I wear this bracelet?
With which kinds of outfits or other accessories will I usually pair this bracelet?
Which styles, materials, and gems best match my personality?
What styles and colors make me happy?
Maybe you'll go for a show-stopping statement piece that will be worn less frequently but will make a big impact as the centerpiece of your outfit.
Perhaps you're looking for something more subtle that you can wear every day—but will still be a head-turner. Taking into consideration your style and habits are central to selecting a bracelet you love.
How to Design a Custom Bracelet
You don't need to be an artist to design custom bracelets. You can work with a design professional to select the materials, styles, and gemstones that best fit your vision.
First, you'll speak with one of our designers to share your tastes and show any pictures that illustrate the look you're going for. Next, you'll choose your preferred metals and stones and your designer will begin sketching out your vision by hand.
Once you agree to the design, our craftsmen will set in on building your bracelet. Finally, you'll receive your bespoke bracelet to wear and cherish forever.
Find Your Signature Bracelet at Dominion Jewelers
At Dominion Jewelers, we have a wide selection of statement bracelets for your next evening out as well as tennis bracelets that are perfect for all occasions. If your perfect bracelet doesn't already exist in our collection, we have you covered.
Contact our design professionals to set up a consultation to begin creating your own unique, custom bracelet. Our team will walk you through the entire process and help you bring the perfect bracelet to life.
Available Stones & Styles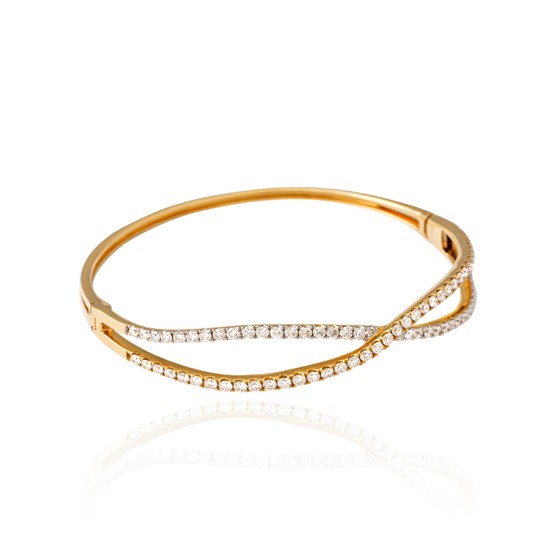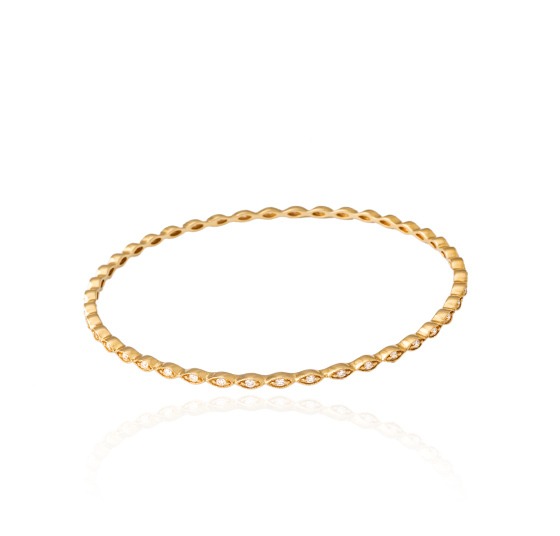 Pave Marquis Milgrain Bangle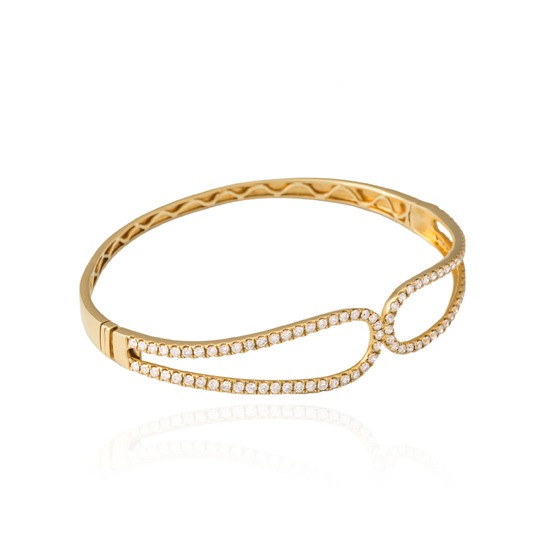 Diamond Masquerade Bangle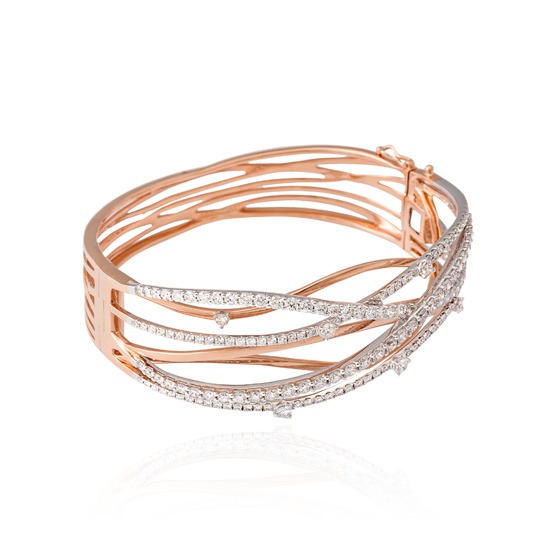 Two-Tone Diamond Wave Cuff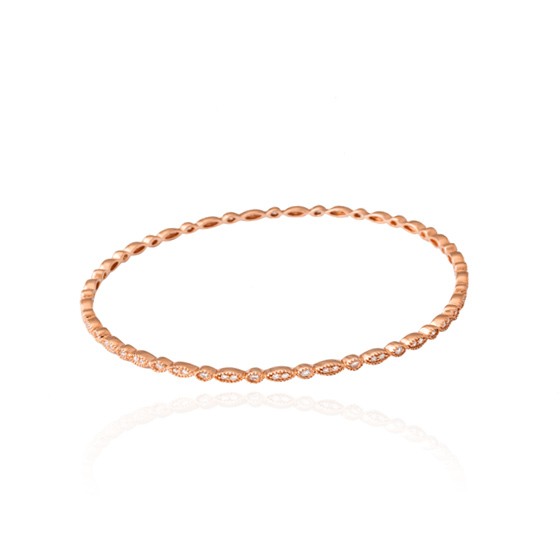 Rose Gold Modern Vintage Bangle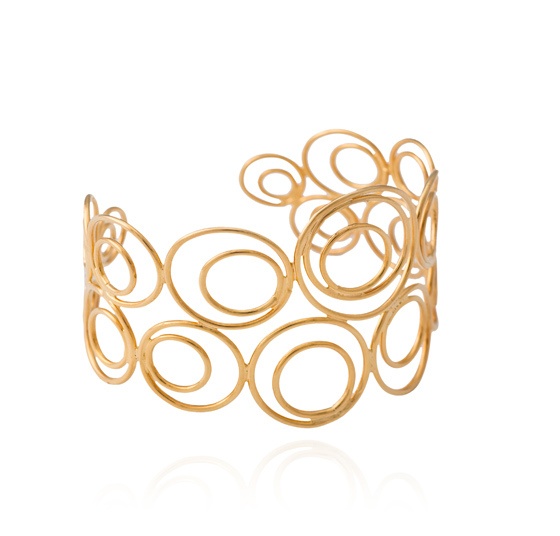 Bracelets at Dominion Jewelers
Bracelets are one of the most wearable articles of jewelry, and most every woman owns a few versatile styles. Whether you're looking for a piece to enhance your everyday look, a luxurious accent for a special occasion, or a meaningful gift, Dominion Jewelers can help you find it. Our store in Falls Church, Virginia, features an impressive selection of superior quality bracelets. We also offer personalized design service, providing our clients with the opportunity to create custom bracelets to uniquely express their personal style. Using only the finest precious metals, diamonds and gemstones, we can help you craft the perfect piece for yourself or that special loved one—something that you simply won't find anywhere else.
Bracelets: 'Must-Haves' in Every Jewelry Collection
Whether you enjoy layering several pieces of jewelry at once or you prefer to keep it simple, bracelets are basic accessories for any jewelry lover. And, because there are so many different design possibilities, they are a favorite gift as well. From classic gold bangles to diamond tennis bracelets to a simple circlet of creamy pearls, there is a just-right bracelet for every personality, style and occasion.
A simple gold bracelet can add a touch of sophistication to your everyday wardrobe. The chic look of a link bracelet in yellow, white, or rose gold will complement a casual shirt and jeans or a summer dress. Our collection includes gold bracelets in a variety of link sizes, ranging from chunky statement pieces to trendy, stirrup-style designs and delicate ropes. For something especially unique, consider choosing or designing a piece using mixed metals for maximum versatility.
Bangle bracelets have never gone out of fashion, and are especially easy to dress up or down. Dominion Jewelers offers a myriad of options in traditional, vintage and contemporary styles that are anything but ordinary. Our onyx and diamond bangle is a sleek, modern update on the classic, and our gorgeous diamond-studded bangle is a dazzler. Adding gemstones in a favorite hue can add a touch of personal style—a fun and unexpected pop of color in any wardrobe.
Searching for a classic piece of jewelry for a formal occasion? A pearl bracelet may be exactly what you're looking for. Whether it's a simple, single strand or a striking two- or three-strand design, pearl bracelets are also a perennially favorite bridal accessory—the perfect 'something new' for a special bride's wedding day. And, like diamonds, pearls are likely to become family heirlooms, worn and cherished by generations to come.
A tennis bracelet is a treasure in any jewelry collection. Its simplicity and versatility make it always appropriate, no matter the occasion. Tennis bracelets are traditionally set with brilliant white diamonds, but can also be custom designed to feature richly colored gemstones such as rubies and sapphires—or even contemporary black diamonds—to create a one-of-a-kind look.
Custom Design Services
Dominion Jewelers offers an extensive selection of gorgeous bracelets, but if you simply can't find that perfect one, let us help you create the bracelet of your dreams. Your vision can become a reality with our custom design services, where one of our jewelry experts will work closely with you to bring your design to life. This attentive service is what sets us apart from many other jewelry stores in the Washington, DC metropolitan area. It is also our promise that you will be able to own and enjoy a truly exceptional piece.
Dominion Jewelers: Northern Virginia's Destination for Luxury Jewelry
At Dominion Jewelers, we realize how much meaning a single piece of jewelry can hold. In every personal collection, there are gifts from loved ones that evoke special memories, mark momentous occasions, or simply remind us of the special people in our lives. It is often these pieces that are passed down and become part of a family's history. And because we understand and appreciate this, we are proudly dedicated to creating the finest quality jewelry that will retain its value and beauty for many lifetimes.
If you're interested in exploring our extensive bracelet collection or would like to learn more about creating a uniquely personal custom piece, we invite you to browse our beautiful showroom or meet with a design professional today.
Contact Dominion Jewelers Today!
Our Other Products:
Custom jewelry beautifully created just for you.
At Dominion Jewelers, we proud ourselves on crafting custom accessories that make you confident and day-ready for every moment.
Precious metals designed specifically for your unique need.