Purchasing an Engagement Ring: Online vs. a Reputable Jeweler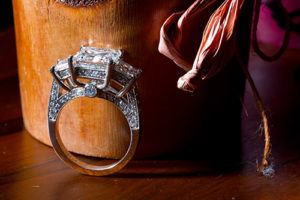 It's a cyber-world for shoppers these days, with opportunities for bargains virtually everywhere.  But is buying online the best and safest way to make one of the largest and most important purchases of your life?  Here are a few considerations to help you feel competent and confident in making this decision:

If I buy a diamond online, how do I know what I'm getting?
Online research is never a bad idea, but reading about diamonds and perusing dozens of stock photos cannot replace personally inspecting them.   Even if you are guaranteed satisfaction with your online purchase, most buyers lack the skills to evaluate diamond specifications.   When you meet with a jewelry professional, however, you will have not only the opportunity to closely examine numerous diamonds using gemological equipment, but also the expertise and guidance of an experienced designer.

What about the setting?
Perhaps to a greater degree than the diamond or precious gemstone, the engagement ring setting reflects the personal taste and style of the wearer.   There are hundreds of online jewelry designers, but most offer limited or no customization.   Our clients at Dominion Jewelers are excited about creating custom designs that are uniquely theirs.  They can try on a variety of styles and see firsthand our quality materials and superior craftsmanship.

Who will take care of my purchase?
We all know how important it is to have trustworthy doctors, accountants, and car mechanics.  Shouldn't you have a jeweler that looks out for you as well?  We tell our clients that we would love to sell them an engagement ring today, but more importantly, we want to be their long-term jeweler.  Our personal service includes regular cleaning, polishing, and prong-checking, as well as a trade-up policy for future purchases.  Knowing we will be here to take care of our clients'  present and future jewelry needs is a great comfort to them, and something to think about in the often "here today, gone tomorrow" world of online retailers.