From Something Old to Something New: Stunning Ways to Re-purpose Jewelry for your Wedding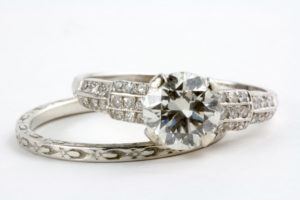 Grandmother has given you permission to go ahead and customize the beautiful heirloom ring she's given you. So what are the next steps in the process? What kinds of things can you do to create a truly custom wedding ring for the bride to be? Here are a few inspirational ideas to get you started.
Save the Stone
Oftentimes it is the center stone that is the most important part of an heirloom piece. It is possible to preserve this stone but put it into a new setting made of rose gold, which has grown increasingly popular in the last few years. Sometimes even customizing the setting or adding a few small, colored stones around the band are enough to give the ring a modern facelift.
Add Another Band
Perhaps you want to keep the majority of the original ring intact, but you want to add some accents. You can order custom jewelry bands to fit against either side of your existing ring and enhance its look. An extra band of stones, or even adding a different colored metal on either side, will draw the eye toward your heirloom and help frame it.
Start From Scratch
To create something truly personalized you can take your heirloom ring to a jeweler and have something made from scratch. They will work with you to create a design full of filigree, twists, bows or whatever modern look you're after. Then they will separate the pieces of your heirloom ring and rework it into an all new design.
While the cost of a full customization may be higher, you will still save a ton on materials. Bring in a few pictures of rings that your bride loves and use those to build something 100 percent custom.
The latest trends in diamond engagement rings feature a variety of colored stones, as well as unusual metal choices. There also tend to be more intricate designs along the face and sides of the band. In the past, wedding bands tended to be plain yellow gold with few accents, but today it is not unusual to see stones set into the band itself, or on the front and back of the band so that it looks glamorous from every angle.
To learn more about custom wedding rings from Dominion Jewelers, contact us today.
---
Contact Dominion Jewelers Today!
Address: 917 W Broad St, Falls Church, VA 22046
Phone: (703) 237-3737
Our Other Products: